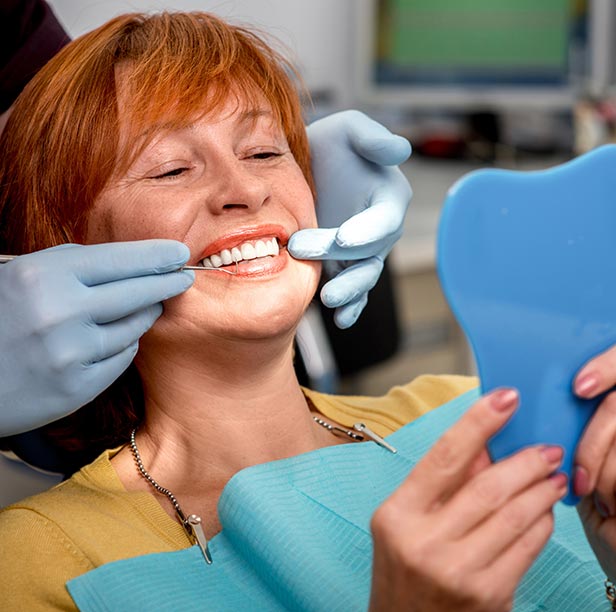 Lexington Dental of Owasso is pleased to provide various restorative dental services to our Owasso, Oklahoma community. Dr. Cary uses restorative dentistry to restore the health and function of your teeth. Our team employs restorative dental treatment for patients who have sustained damage to their teeth caused by dental decay or trauma, and they are also used to replace missing teeth.
Some of the most common dental restoration treatments include:
CEREC Same-Day Dental Crowns
Dr. Cary uses CEREC® technology to provide dental crowns that only take one visit to our Lexington Dental office to complete, which helps you get back to your routine as quickly as possible. CEREC® uses advanced design and fabrication technology to seamlessly collect impressions of your teeth while fabricating your crowns in a fraction of the time it takes for traditional dental crowns. The CEREC system significantly shortens the preparation, fabrication, and installation phases of dental crown procedures.
Composite Dental Fillings
Dental fillings are one of the most common treatments offered in dentistry. Traditionally, dental fillings are made of silver amalgam. However, our dental office uses only composite, or tooth-colored, filling material. Dr. Cary and our Lexington Dental team have chosen composite filling materials to provide you with a more natural-looking result and promote better long-term oral health. Our composite fillings match your natural tooth color for a smooth fix that'll have you smiling ear to ear.
As an alternative to dental implants, dental bridges are an excellent way to restore your smile if you have missing teeth. Dental crowns hold this permanent oral appliance in place, repairing your smile and filling the gaps left between your teeth. A dental bridge is a conservative approach to a dental restoration that replaces one or more missing teeth. Dental bridges are more affordable and last just as long as dental implants or different types of dentures.
As part of our restorative dental treatment options, Dr. Cary offers porcelain dental crowns in Owasso, Oklahoma, to repair your smile if a traditional dental filling cannot fix your teeth. This treatment allows you to retain your natural tooth structure as much as possible while repairing dental decay. This easy restorative treatment can be completed in one or two appointments, depending on the extent of the repair needed.
Dental implants are an excellent solution to missing teeth. They can be used to replace one or more teeth and are stable, long-lasting, and permanent oral appliances. Dental implants will require multiple dental appointments at our office. Dr. Cary will discuss your treatment plan with you as you progress through the stages of the implant process to monitor your oral health. We invite you to ask questions before, during, and after treatments to stay informed about your care.
Root canal therapy is an endodontic treatment focusing on healing and restoring damaged or infected root pulp. This treatment is usually offered for patients with severe toothaches caused by inflamed tissue. Infected root pulp is typically the result of dental decay that reaches past the outer protective layers of the tooth and causes the pulp to become irritated or destroyed by harmful bacteria.
Meet Your Dentist
Dr. Jacob Cary, DDS
Dr. Jacob Cary is committed to providing modern, intuitive solutions to all of our valued dental patients. After receiving his Doctor of Dental Surgery from New York University College of Dentistry, Dr. Cary returned to his roots here in Oklahoma, where he grew up on a small family farm. Dr. Cary and our talented team of hygienists, assistants, and coordinators are dedicated to creating a welcoming family atmosphere to serve as Owasso's most trusted dentist.