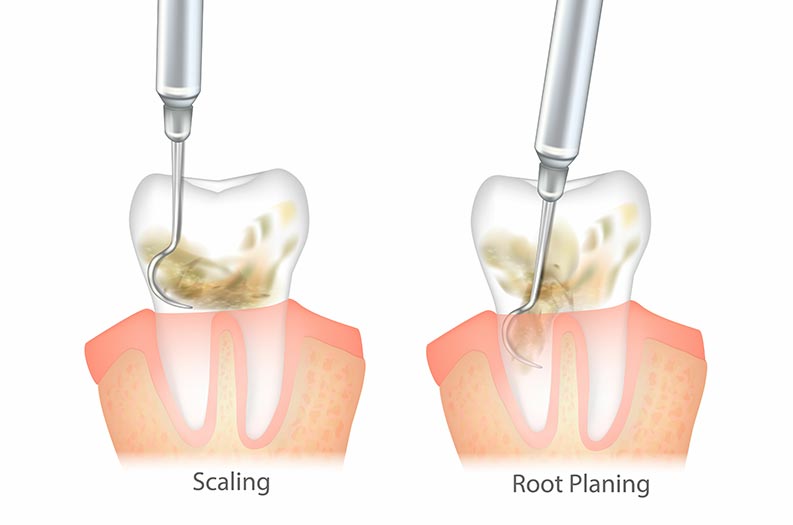 Owasso General Dental Services for Improved Oral Health
While several factors can contribute to gum disease, the primary cause is a buildup of plaque and tartar on the surfaces of your teeth, including the roots. Our team recommends scaling and root planing if you have a more severe periodontal disease. This treatment is a deep cleaning treatment that removes damaging bacteria from beneath the gum line.
What is Scaling & Root Planing?
What Our Patients Can Expect
Scaling and root planing are sometimes used with other periodontal treatments, such as antibiotics, to help us achieve the best results. Our dentist will discuss the treatment plans with you so you can get the most out of periodontal treatments and halt the disease. Dr. Cary often uses local anesthesia during this treatment to ensure your experience is as comfortable as possible. We may also suggest splitting the treatment into multiple visits to focus on one area of the mouth at a time. We invite you to learn more about scaling and root planing by contacting our Owasso office.
Dr. Jacob Cary is committed to providing modern, intuitive solutions to all of our valued dental patients. After receiving his Doctor of Dental Surgery from New York University College of Dentistry, Dr. Cary returned to his roots here in Oklahoma, where he grew up on a small family farm. Dr. Cary and our talented team of hygienists, assistants, and coordinators are dedicated to creating a welcoming family atmosphere to serve as Owasso's most trusted dentist.