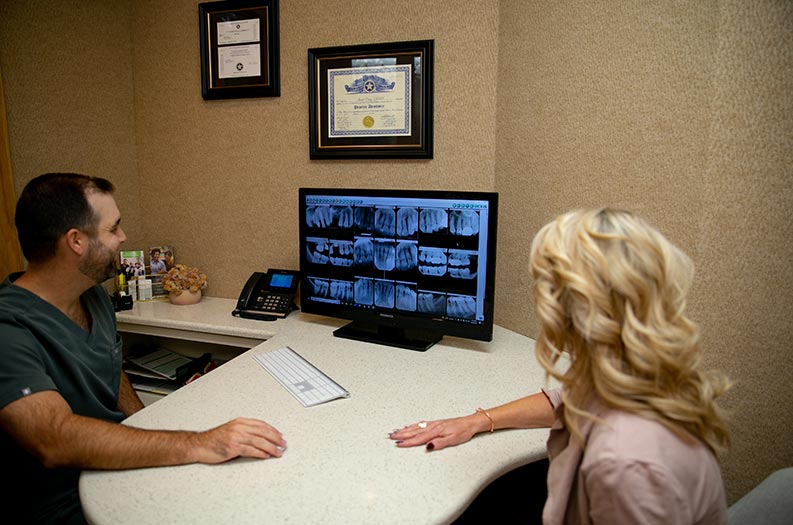 Digital Dental X-Ray Technology for the Owasso Community
Digital X-rays are one of the advanced diagnostic tools we use to provide you with the best possible care. Digital radiography has changed how we take dental X-rays by making the process faster, more comfortable, and more convenient than ever before. Digital X-rays use a digital sensor to take images of your teeth, unlike traditional X-rays that use film. Digital X-rays use significantly less radiation than conventional film X-rays and require the use of no chemicals for developing the images.
We Identify & Diagnose Dental Issues with Digital Radiography
Digital dental X-rays are used to plan many kinds of dental treatment, such as oral surgery procedures, root canal treatment, dental implants, orthodontics, and more. Our team can use digital radiography to identify and diagnose several types of dental problems, such as:
The Advantages of Dental X-Ray Technology
Schedule Your Dental Consultation Today
Schedule a consultation with our dentist today to further discuss your oral health outlook. We look forward to helping you achieve your oral health and aesthetic goals together.
Dr. Jacob Cary is committed to providing modern, intuitive solutions to all of our valued dental patients. After receiving his Doctor of Dental Surgery from New York University College of Dentistry, Dr. Cary returned to his roots here in Oklahoma, where he grew up on a small family farm. Dr. Cary and our talented team of hygienists, assistants, and coordinators are dedicated to creating a welcoming family atmosphere to serve as Owasso's most trusted dentist.