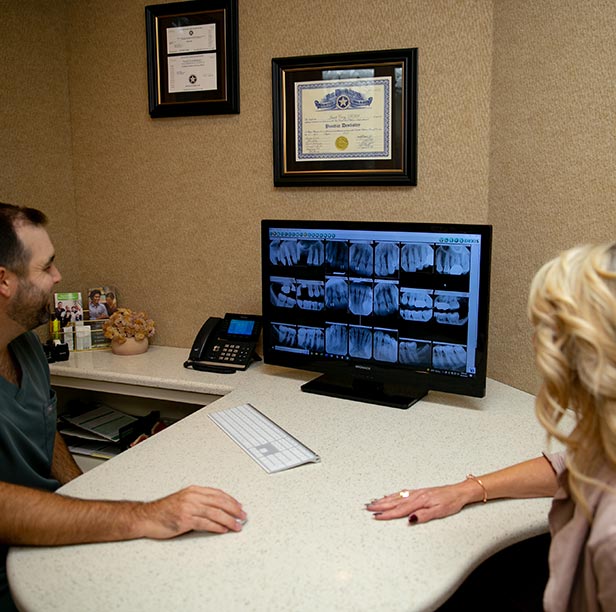 While a healthy smile never goes out of style, the techniques and technology continue to change and improve. Dr. Jacob Cary and the team at Lexington Dental of Owasso utilize the latest dental technology in Owasso, Oklahoma, to make every aspect of your visit easier and more effective.
The Technology of the Trade
Dr. Cary and Lexington Dental of Owasso's entire team are dedicated to continually providing your family with the highest care. We are committed to meeting all of your dental needs and providing you with a dental experience that is comfortable and pleasant each time you visit us. 
To help us achieve these goals, we employ numerous kinds of state-of-the-art dental technology. Dental technology includes cutting-edge tools, equipment, techniques, and materials which ensure you receive high-quality, comfortable care.
The CEREC system shortens the preparation, fabrication, and installation phases of dental crown procedures to one day. CEREC® uses advanced design and fabrication technology to seamlessly collect impressions of your teeth while fabricating your crowns in a fraction of the time it takes for traditional dental crowns.
Cone beam 3D technology is an imaging system that provides us with three-dimensional image reconstructions of your teeth, mouth, jaw, neck, ears, nose, and throat. Cone beam 3D imaging helps diagnose dental conditions and plan treatments. One of the advantages of 3D cone beam technology is its ability to show a comprehensive view of your mouth and supporting structures beyond the efficacy of digital X-rays.
Digital impressions are a modern, efficient, and comfortable way to take precise impressions of your mouth. If you've ever had a traditional impression or mold taken in the past, you know that they can be unpleasant and uncomfortable. That's why we utilize digital impressions for replacing a traditionally messy process. The digital impression system is less invasive than traditional impressions while providing our Lexington Dental team with accurate molds of your teeth.
Digital X-rays are one of the advanced diagnostic tools we use to provide you with the best possible care. Digital radiography has changed how we take dental X-rays by making the process faster, more comfortable, and more convenient than ever before. Digital X-rays use a digital sensor to take images of your teeth, unlike traditional X-rays that use film. Digital X-rays use significantly less radiation than conventional film X-rays and require the use of no chemicals for developing the images.
An intraoral camera is a tool we use to get a closer look at different parts of your smile. The intraoral camera is a small, pen-shaped device that we can use to take high-quality color photos of your teeth, gums, and other areas of your mouth. The intraoral camera is small and easy to control, allowing us to see angles of your mouth that we cannot easily view with the unaided eye. We may utilize the intraoral camera to evaluate your oral health and diagnose dental problems like tooth decay and periodontal disease.
Soft tissue lasers allow us to execute procedures more accurately, providing practical care and minimizing your recovery time following treatment. Soft tissue lasers are versatile tools used in various dental procedures, like treating sleep apnea, performing nerve regeneration, aiding dental implant recovery, removing benign tumors, and performing teeth whitening treatments.
Meet Your Dentist - Dr. Jacob Cary, DDS
Dr. Jacob Cary is committed to providing modern, intuitive solutions to all of our valued dental patients. After receiving his Doctor of Dental Surgery from New York University College of Dentistry, Dr. Cary returned to his roots here in Oklahoma, where he grew up on a small family farm. Dr. Cary and our talented team of hygienists, assistants, and coordinators are dedicated to creating a welcoming family atmosphere to serve as Owasso's most trusted dentist.