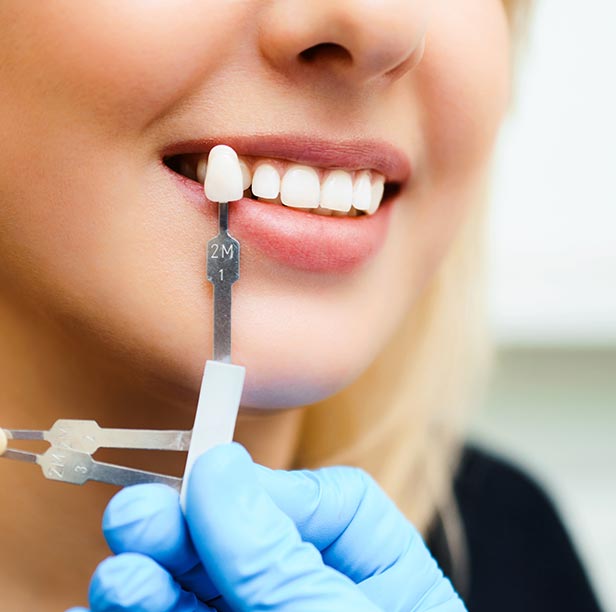 While striving for exceptional oral health should be your primary goal, your smile's aesthetic is still essential to your dental outlook and plan. Your smile is your first impression and natural confidence booster, shining when life is at its best. 
Lexington Dental of Owasso understands how the health and aesthetics of our patients' smiles can impact their quality of life.
Dental bonding is a quick and painless cosmetic procedure that adheres composite resin to an affected tooth. Dr. Cary shapes the resin while it's still pliable, solidifying it with a specialized UV light to finalize its form. Dental bonding is mainly used to repair chips and cracks, hide tooth discoloration, and change the overall shape of your teeth.
Dental veneers may be your ideal solution if you need a cosmetic treatment beyond dental bonding. Dental veneers are custom-crafted shells of highly durable material that bond to the face of your teeth. Their color, shape, size, and length can all be customized to fit your smile's natural look and feel. Veneers can correct dental imperfections such as worn, chipped, or broken teeth, misshapen teeth, gapped teeth, and discolored or yellowed teeth.
Why go through the hassle of metal braces as an adult when more accessible options are available? SureSmile ® clear aligners are a popular orthodontic treatment used to straighten teeth. These clear aligners are a great solution to traditional braces, which are often bulkier and more apparent. Patients can straighten their teeth with these subtle aligners for a beautiful new smile.
If your teen wants a more discreet way to straighten their teeth than traditional bulky braces, we offer SureSmile ® for Teens. SureSmile Teen clear aligners work just as efficiently as braces to create beautiful, straight smiles. Using a thin, clear plastic tray that sits directly over the teeth, the SureSmile Teen system gently moves the teeth into the correct alignment without the hassle of metal brackets and wires.
Lexington Dental's smile makeover is a personalized, comprehensive treatment plan that can significantly enhance the beauty of your smile. A smile makeover combines multiple cosmetic and restorative dental treatments to help you achieve a healthy, beautiful smile. Depending on your personal dental needs and your goals for your smile, your smile makeover may include dental bridges, crowns, dental bonding, fillings, dental implants, dentures (complete or partial), porcelain veneers, and teeth whitening services.
Lexington Dental's take-home teeth whitening is a simple, effective, and convenient treatment to enhance your smile and improve the appearance of your teeth. Our take-home teeth whitening kits can help lighten the stains and discolorations caused by foods, drinks, tobacco use, medication, poor dental hygiene, age, and other factors. Don't wait to start whitening, so you can once again enjoy the benefits of a brilliant smile.
Meet Your Dentist
Dr. Jacob Cary, DDS
Dr. Jacob Cary is committed to providing modern, intuitive solutions to all of our valued dental patients. After receiving his Doctor of Dental Surgery from New York University College of Dentistry, Dr. Cary returned to his roots here in Oklahoma, where he grew up on a small family farm. Dr. Cary and our talented team of hygienists, assistants, and coordinators are dedicated to creating a welcoming family atmosphere to serve as Owasso's most trusted dentist.